Ajax absolutely strolled over Borussia Dortmund in yesterday's UEFA Champions League (UCL) bout in Amsterdam with a final result of 4-0!
In a battle between the two leaders of Group C, it was the home team to come out on top. And not only did they come out on top, they did so with surprising ease. Dortmund couldn't find a way to deal with their opponents' forechecking and Ajax dominated the whole match.
Ajax were carried on the back of the great atmosphere of their home Johan Cruyff Arena with all the cheering fans and the first goal came early on. Experienced Ajax forward Dusan Tadic took on a free-kick 11 minutes into the game, Dortmund captain Marco Reus tried to steer the shot away with his head, but it actually bounced in, and the hosts were up 1-0. 
Another goal came 14 minutes later. A second Ajax veteran and all-rounder, Daley Blind, received the ball from Sebastian Haller at the edge of the box and fired a bomb into the bottom left corner. Ajax kept creating one chance after another and Gregor Kobel in Dortmund's net had his work cut out for him.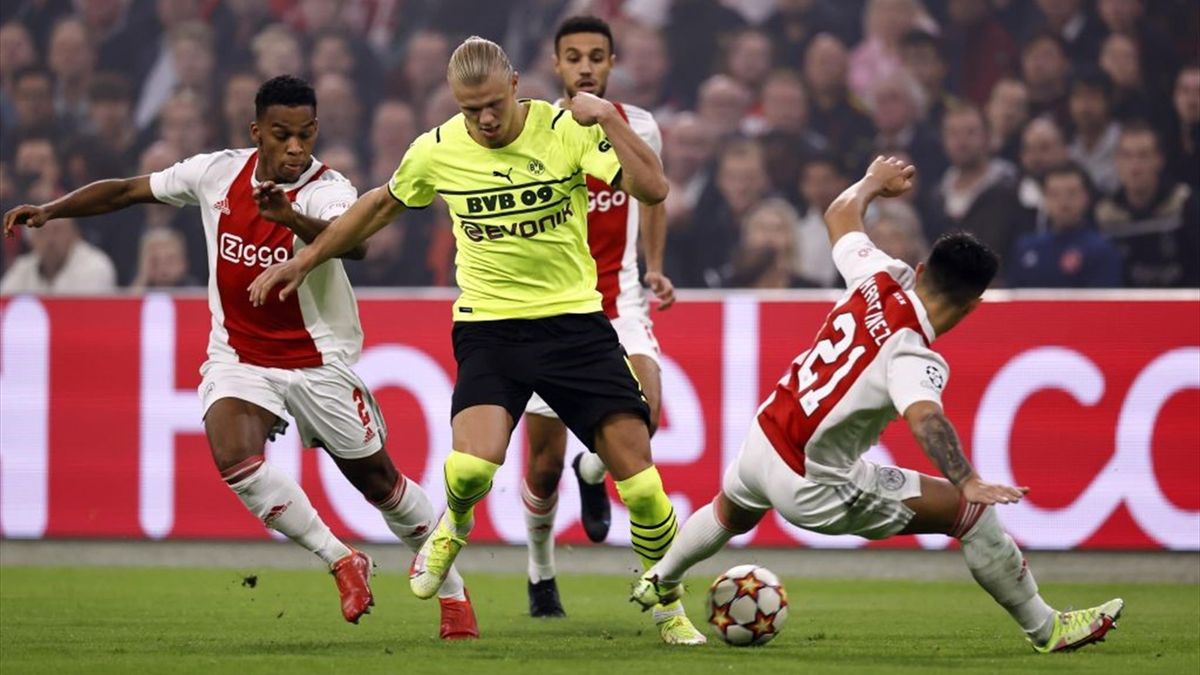 Ajax winger Antony, who made his Brazil debut just last week, scored the third goal after fighting his way to get the ball near Dortmund's net and made it 3-0. Ajax striker Sebastian Haller was most definitely the star of the match. He got an assist, kept disrupting Dortmund's defence, and creating plenty of chances, and his game finally paid off in the 72nd minute when he got a goal of his own with an accurate header. 
This match marks the third win out of the possible three for Ajax as they now comfortably occupy the first spot in Group C on 9 points. They scored 11 goals and only conceded once! Haller is now the leading goalscorer in the UCL with 6 goals, one more than Salah.
Dortmund are second with 6 points, Sporting are third with 3 points after beating Besiktas yesterday, and the Turkish side are dead-last.
Dortmund will get a chance to remedy this embarrassing result on November 3 at home.