PSG were unable to break Marseille's defence in the classic French derby yesterday to only draw 0-0, and Inter lost the lead to Juventus in the final minutes of the game to draw 1-1.
PSG travelled to Stade Vélodrome with hopes of leaving everyone else in Ligue 1 in the dust, but they couldn't quite find a way to score against the tough Marseille who had the force of their home fans behind them, literally, as they kept throwing bottles on the pitch. While the final result of the game seems dull, the match was anything but.
PSG kicked off with all of their offensive stars on the pitch, and Neymar could have opened the score already in the 14th minute. He shot the ball into a Marseille defender and it ended up in the net. Unfortunately, the referees noticed he was in an offside position beforehand and so the goal was waved off. 
The same thing happened on the other side. Arkadiusz Milik scored a lovely goal in the 21st minute only for it to be waved off a few minutes later after checking with the video assistant referee (VAR). Yet another marginal offside. Scores stayed the same at 0-0.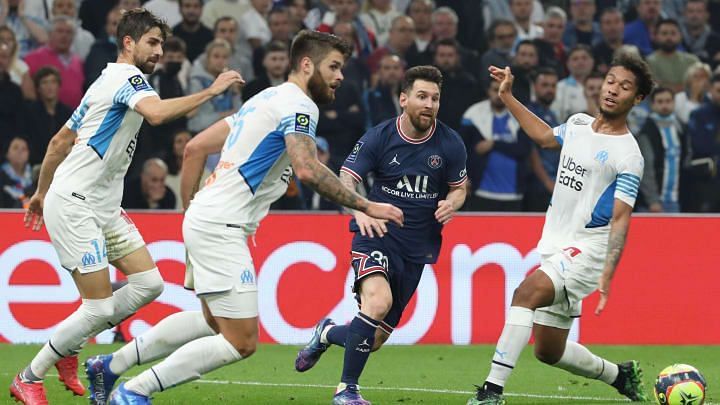 Lionel Messi had a certain goal-scoring opportunity 26 minutes into the game when Marseille defenders left him all alone in front of the net, but keeper Pau Lopez was ready as he confidently dealt with Messi's header.
The game got quite a lot more heated in the second half and in the 57th minute Achraf Hakimi received a red card after shoving a Marseille player in the back. Marseille might have had the numerical advantage for the rest of the game, but the result stayed the same.
PSG still lead Ligue 1 with a seven-point advantage over the second Lens.
Another great European derby took place yesterday, and that was the match between two of the top Italian squads, Inter Milan and Juventus. The reigning champions got the first goal of the game in the 17th minute. It was none other than the 35-year-old veteran striker Edin Džeko. This is already his seventh goal in nine games for Inter. This is also the first goal Juventus have conceded in four matches!
Inter closed up the gaps and focused on defensive play in the second half hoping to keep the scores at 1-0. Only in the final minutes of the game did Juventus really manage to put a great deal of pressure on their opponents, and finally, in the 89th minute, it paid off.
Dumfries kicked Alex Sandro from the back right on the edge of the box and a penalty was awarded to Juventus. Dybala was the one to take it and he did not hesitate to make the game even.
Inter are now third on 18 points while Juventus are slowly climbing up the table and now occupy the sixth position on 15 points.