AFC Ajax get their second win against Borussia Dortmund this season in the UEFA Champions League (UCL) group stage. Ajax already have a certain spot in the play-offs after winning all four of their matches so far, having scored 14 goals!
Borussia Dortmund were unable to get their revenge against Ajax, who first embarrassed them 4-0 in Amsterdam on the 19th of October, and now again, 3-1 in Dortmund. Unfortunately, the home team had to do without Erling Haaland, who got injured in the first match against the Dutch team, since he might have been the difference-maker.
Borussia entered the match with a lot of hunger and aggressivity which led to several good chances. Jude Bellingham could have headed the ball in the ninth minute already, but he only just missed the net. Marco Reus tested the Ajax keeper Remko Pasveer from the distance 26 minutes in, but the goalie was ready.
Things got complicated in the 29th minute of the game when Mats Hummels received a red card after a dangerous sliding tackle. The emotions were all the way up, and only about six minutes later, Dortmund received a penalty after a foul on Bellingham in the box. Marco Reus did not hesitate to put his team in front, but this was just about all we would see from the Germans. It was time for the Dutch to take over and truly make the best of their numerical advantage.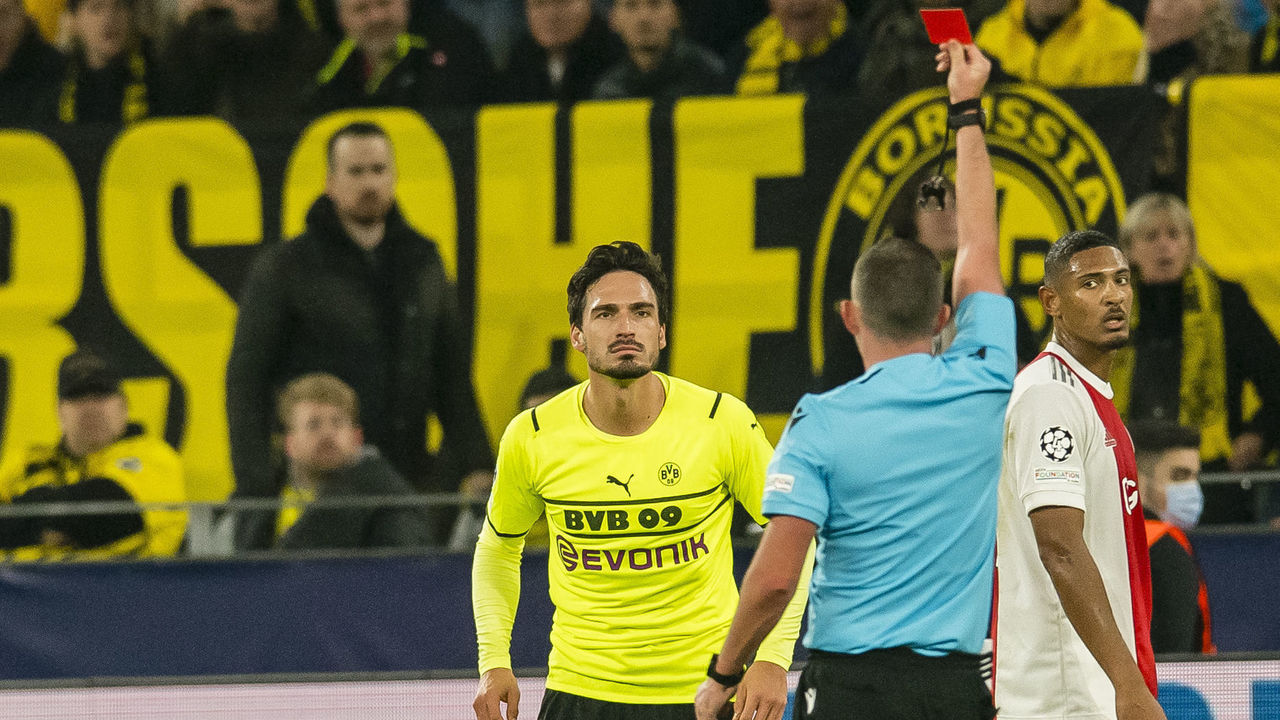 The first goal for Ajax came on 72 minutes. Antony crossed the ball into the penalty area, only for a Dortmund defender to poorly try to clear it away and basically tip it onto an unmarked Dušan Tadić who just had to angle his foot properly to make it 1-1. 
Ajax striker Sebastien Haller made it 2-1 from a very similar situation 11 minutes later. Antony crossed the ball in and this time Haller got his head on it and put it in. The Cote d'Ivoirian now has astonishing seven goals and two assists in only four UCL matches!
Ajax sealed the victory in the injury time after Antony easily passed the ball through a distraught Dortmund defence onto the feet of Davy Klaassen to make it 3-1.
Ajax are still first in Group C with 12 points and they have a certain spot in the play-offs. Dortmund are second with six points, with Sporting right on their tails in third with six points as well. Besiktas are dead-last with zero points. Dortmund's match against Sporting on the 24th of November will be the important decider as to who will join Ajax in the round of 16.